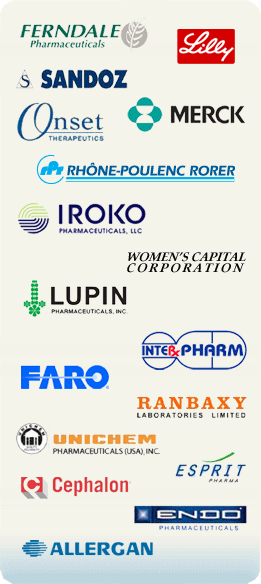 As the leading outsourced sales and marketing firm, Granard is devoted exclusively to the pharmaceutical and biotech industries. Our experience and expertise successfully launches new products and secures strong market positions.
Granard Pharmaceuticals provides clients with unique and efficient marketing and sales programs. These programs grab the customer's attention helping companies to reach and exceed their goals. We also have established relationships with all of the major pharmaceutical retailers, distributors, wholesalers and mail-order pharmacies. These contacts can assist brand and generic pharmaceutical companies with their sales efforts.
The services that we provide to clients include:
LAUNCHING AUTHORIZED GENERICS IN OUR PRIVATE LABEL
At Granard, we use a proven turnkey process to ensure that our clients' products are being launched successfully. Granard gains market share in the generic space while leaving your brand business and share in tact.
PROVIDING STATE LICENSING
Our staff is trained to handle all your licensing needs in order to sell and distribute in your own label.
NATIONAL TRADE REPRESENTATION
With over fifteen years of relationships in trade and distribution channels we handle all your brand and generic needs.
For more information on our products and services, contact Granard Pharmaceuticals today.
Operations
Operations are
the "Heart Beat"
of any commercial
organization.
Learn More >>
Sales & Marketing
Granard works
closely with you to ensure you
meet your sales goals year after year.
Learn More >>
Trade & Distribution
Granard is a "tum key" sales
and marketing organization. We provide
everything from sales to logistics to
customer service.
Learn More >>